On April 25, APT filed a lawsuit to compel the Federal Election Commission to take action on our previously filed complaint against Swiss billionaire Hansjorg Wyss for funneling money into our elections.
The lawsuit relies on many media interviews indicating that he is not a U.S. citizen, and therefore cannot indirectly or directly participate in U.S. elections. And since that filing, APT has obtained more records confirming that liberal mega-donor Wyss is absolutely not a U.S. citizen.
APT obtained the biography of Wyss, written by his sister Hedi Wyss, entitled "Hansjörg Wyss: My Brother," that further confirmshe is not a U.S. citizen and his attempt to influence our elections through his foundation.
"In the newspapers he is called one of their important citizens, although he never applied for citizenship, and in the United States there is no such status as honorary citizen," she wrote. "What was important for him was to find out that he could exert influence through his foundations."
Hedi Wyss recalls in the biography a 2011 meeting with her brother that included representatives from CAP to the ACLU, "and the discussion is centered on the various possibilities for exerting an influence on American jurisdiction, which has been dominated by conservative forces in the past years with alarming consequences for American domestic politics."
Read more about Wyss' mega-influence in U.S. politics in Real Clear Politics.
EXCERPT FROM "HANSJÖRG WYSS: MY BROTHER"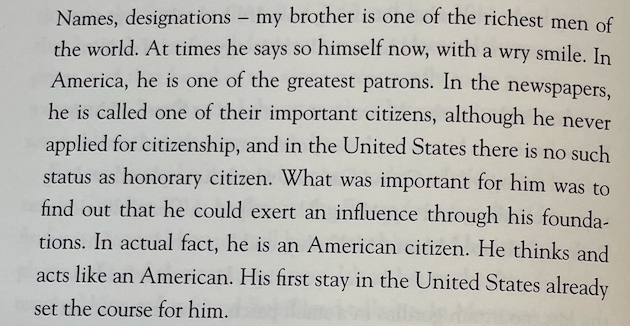 EXCERPT FROM "HANSJÖRG WYSS: MY BROTHER"